Version: 2.4.0 (latest)
The default port for running
OMNI

Agent web server is busy (Windows)​

By default, OMNI Agent runs on port 8080. If this port is busy, the web server becomes unavailable.

Solution: follow the link
Memory leak after reading large database (Windows)​
When reading a large database, the problem of high memory consumption may occur. The task manager does not indicate what memory is being used for.
Solution: Download RamMAP and clear Standby Lists (Empty → Empty Standby Lists).
OMNI

Agent installer does not run on some Linux (Ubuntu) distributions​

During installation, two error windows appear - one of them with a message about an unsuccessful authorization attempt.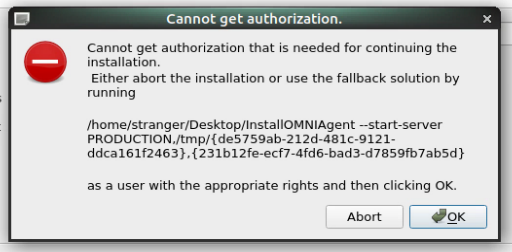 Solution: copy the command from the error window to a terminal, run it with sudo (or as a user with root privileges) and click "OK" on the error window.